0115 986 1233
Unit 11 & 12, Ashling Court, Nottingham NG2 3JA
Meet The Team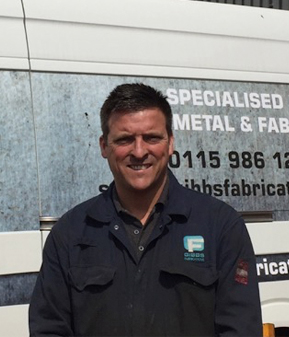 Gary Gibbs
I have been involved in the metalwork industry since leaving school. Now 30 years on I have followed my dream and set up Gibbs Fabrications.
I always wanted to create a quality organisation small yet flexible enough to offer all disciplines in the metal working industry. We pride ourselves on offering quality solutions at reasonable prices.
Personally, I enjoy the challenge of the working with people who are looking for bespoke metalworking in all materials – Especially the ones that turn up with drawings on the back of their business card!
The Team
What is the difference between Gibbs Fabrications and our competitors?
That's easy. Our Employees.
Come and meet us. We have a multi-disciplined skill force, with the enthusiasm and passion to get the job done…